Meet the Rocky Mountain Tackle Pro Staff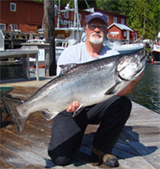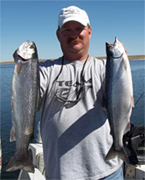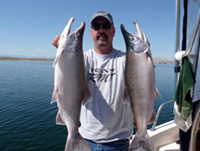 Marc Johnson
Fishing has been a passion of mine that stretches over almost five decades, from freshwater to saltwater, Flaming Gorge to Vancouver Island. I am in my element when I am on a boat. I have three sons who have grown up on the water and learned all I could teach them and now all of them run boats of their own, with their families. Jared has pursued his fishing passion and is now setting the bar in the kokanee and trout industry with Rocky Mountain Tackle and the other companies he owns.
I spend May & June at Flaming Gorge pursuing kokanee and lake trout. Then July through the end of September you will find my wife and I at Telegraph Cove on the Northeastern end of Vancouver Island, chasing salmon, halibut, lingcod and spending time with our little fur ball 'Sam' (our West Highland Terrier).
I have had the opportunity to test numerous products from RMT and I would have to say my go to setup would have to be the 5.5″ Silver Fire Ice Dodger with a Double Glow Rainbow or the Mojo Melon Squid.
Aaron Reid
Although I have been fishing with Jared and a member of the Rocky Mountain Tackle Pro Staff for 7 years, I have been an outdoor enthusiast all my life.
I reside in Ogden Utah and along with my wife and two kids, I enjoy the challenges that fishing brings with each new season.
Being an avid salmon and trout fisherman, I'm obviously drawn heavily to fishing Flaming Gorge every chance I get all year round. My favorite time of the year however comes after Labor day up through Memorial day when the temperature drops and the real test of spirit and will comes out.
My favorite kokanee and trout setup would have to be the Pink hyper dodger in conjunction with a Pink hothead viper spoon.
Joe Aksamit
I am located in the Sacramento Valley area and I have close access to many great bodies of inland waters which include: Lake Camanche, Pardee Reservoir, New Hogan, New Melones and Don Pedro. These areas give me good options year round to fish for trout, kokanee, landlocked kings, coho and stripers.
I've been fishing these lakes for over 35 years, tournament fishing for 15 years and guiding for 10. I own and operate Joefish Guide Service and I look forward to kokanee season each year.
Rocky Mountain Tackle gives me an excellent selection of lures to accommodate all fishing conditions and species I fish for. They have helped me to be more productive and consistent.
My favorite or "go to" set up during kokanee season is a 4.25″ UV watermelon At-Tak dodger followed by a Double glow pink super squid. This combo has been very productive for me.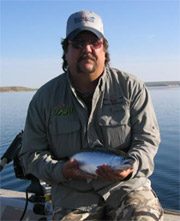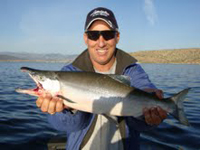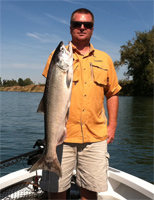 Gary Gonder
Hello my name is Gary Gonder, I live in Green River Wyoming. My family moved to Wyoming when I was 6 Years old. My Dad showed me early on how to fish a lot of our local rivers and streams. I can remember as a teenager fishing the upper Green River and seeing my first spawning Kokanee. Being a sportsman I wanted to learn how to catch these fish, rather then snagging them. Since then my passion for these Silver Bullets has only increased.
Having a World class Fishery like the Gorge so close, and some tremendous friends, to help me hone my skills, it was only natural to put Kokanee at the top of the list. Being associated with Rocky Mountain Tackle / Jared Johnson has helped me to consistently catch Kokanee. Being on the Pro-Staff for the past 5 Years has enabled me to increase my knowledge, while making some life long friends along the way.
I would encourage new anglers to learn as much as they can about their quarry. Using Rocky Mountain Tackle can help you achieve this goal. One of my favorite setups is 5.5 Blue Bahama Dodger with a double glow pink or UV Pearlescent Squid.
Rob Chambers
I've been told I grew up with a fishing pole in my hands. Family moved to Utah from California in 1963. I was fortunate to have local fishing ponds and rivers within walking distance of my home. I think I spent every day in the summers walking east towards either a stream flowing down from Adams Canyon or Holmes Reservoir in East Layton. Sun up to sundown I was dipping a line somewhere.
I was introduced to Flaming Gorge by my Uncle in the late 60's and fell in love with it. Shortly after graduation from Clearfield High School, I entered the military and between active duty and Guard, spent 26 years serving the greatest nation on earth. During those years I've had the privilege of fishing some of the best waters on earth. I've chased salmon and halibut in Alaska, and many saltwater species from Florida to destinations around the world.
I've actively been chasing Kokanee Salmon at the gorge for about 30 years and every weekend is a new learning experience. The best part is experimenting with new lure creations and finding ones that seem to catch fish and sharing those with other fisherman I meet on the water and at the docks as well as sharing my knowledge and tackle with people new to Kokanee fishing. I can usually always be found fishing the waters around Buckboard early in the season and after mid June usually can be found at Lucerene Marina.
If I had to only fish with one combination, it would be a 5.5 hyper plaid dodger with a UV Pearlescent Squid.
James Stone
I started fishing as soon as I could walk with my grandpa and uncle. I soon ventured out with friends as my family watched me grow and fish for many species from trout, bass and catfish to salmon, striper and sturgeon. I moved from the Sacramento Delta in the Bay Area to Northern CA where I found my true passion of fishing the rivers of CA. I fish the Sacramento and Feather rivers most of the time and love to troll for trout and kokanee on many of the foothill lakes. I fish for many other species also.
When I'm not fishing, you would find me hunting. I started my company in 2009 and called it Elite Sportsmen Guide Service. We offer trips for elite sportsmen to come and enjoy. I guide for waterfowl, upland birds, trout, bass, salmon, striper, and sturgeon. I am licensed through CA DFG and United States Coast Guard. Tight Lines and Shoot Straight Everyone.
One of my favorite setups is 5.5 Blue Bahama Dodger with a double glow pink or UV Pearlescent Squid.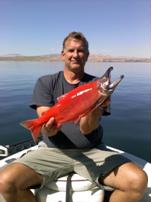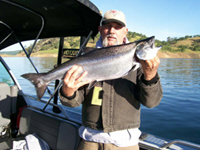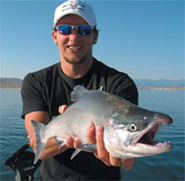 Bruce Ellis
Originally from the Flathead Valley in Northwestern Montana, I grew up fishing mostly for Trout and Kokanee Salmon, along with Large Mouth Bass which were in many of the Pothole lakes which dot the landscape.
I came to Utah in 1977 after joining the Air Force and being stationed at Hill Air Force Base. I spent 4 years active duty and finished my 20+ year career in the Air Force Reserves. I currently work as a civil servant on Hill.
I first started fishing in the local lakes around Ogden, with an occasional trip to Hebgen Lake in the West Yellowstone area, and Fontenelle Reservoir up by La Barge, Wyoming. Around 1982 I went on a weekender to Flaming Gorge, Sheep Creek area, and immediately got hooked on the scenery as well as the fishing. I fish Flaming Gorge as much as I can during the Spring/Summer/early Fall as I get a chance to. If I were only fully retired, I would be at the Reservoir practically every day.
Picking just one blade and lure combo is hard, but I guess over all my favorites over the last 2 years anyway has been the 5-1/2 inch Bahama Mamma Dodger trailing a Double Glow Pink Squid.
I would also have to put in a plug in for the 4-1/4 inch UV Funky Frog Kamikaze Dodger trailing aUV Purple Haze Signature Squid, which I used in 2010 and had good success.
Bill Dunn
I have been guiding fishing trips since June of 2005. I have been fishing for Kokanee in Northern California for more than 20 years. I have fished Stampede Res., Donner Lake, New Melones, and Lake Berryessa just to name a few. I am Licensed by the California Department Of Fish and by The United States Coast Guard and am the owner and operator or Bill Dunn's Fishing Charters
I have been on the Pro Staff of Rocky Mountain for 4 years. In those 4 years I have tried and tested about everything they offer. In those 4 years I have also been responsible for developing with the help of Jared Johnson the Hornet UV Spinners. I started working with the Willow Leaf 2 years ago. I experimented with all the colors I know to be good for Kokanee.
The Lake's I frequent the most are Lake Berryessa, New Melones and Don Pedro. Lake Berryessa I think is one of the best Kokanee fisheries in the State of California. I have Clients come all the way from the Los Angeles area to fish for the Big Kokanee in Lake Berryessa. My biggest fish to date at Berryess is a 20 3/8/1 Male I caught late in 2010. It weighed 3lbs. That is a big Kokanee for California.
Some of my favorite Tackle for Kokanee are 4.25″ Bahama Mama Dodgers with a pink hornet spinner or the pink and purple Assasin spinner.
Colby Chambers
I've had the opportunity to grow up fishing on Flaming Gorge. My parents who are avid fisherman would bring me with them since I was 6 months old, so to say I grew up on the water wouldn't be far from the truth. I remember watching dad catch Kokanee before I was able to even touch his fishing gear and when he bought my first rod and reel and said "let's go catch some kok's" I've been hooked ever since.
I split my time between fishing in the spring and summer and operating a waterfowl hunting operation "Wild West Wingshooter" in the fall and winter. I think one of my most fond memories was an elk hunting trip I went on with dad. We were hunting an area above Flaming Gorge early morning and evening and fishing the Green river below the dam during the day. I thought we would be catching nice Rainbows and Browns, but instead was hooking into spawning Kokanee, one after another. We later learned that they got in the river during a earlier spring overflow of the waters behind the dam. To this day I look forward to each and every trip to the gorge.
My go to set up is a Hyper plaid dodger trailed by a double glow pink squid. I out fish dad every time we go out using this set, even though he says different.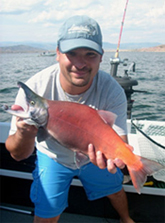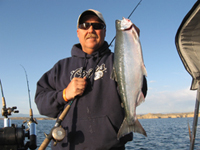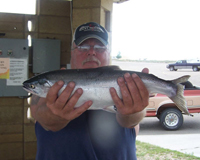 Cory Kellar
I grew up in central California, which gave me the chance to fish different waters catching anything from Striped Bass to King Salmon. I have had the chance to live all over the West coast letting me catch trout and kokanee in every western state east of the Rockies.
I've have been fishing as long as I can remember and fishing tournaments for the past 15 years. I have had the honor of helping Jared build up Rocky Mountain Tackle Company from day one designing, testing and promoting.
Now my family and I live in Utah home of Rocky Mountain Tackle Company where my boat "Pro-Fish-N-Sea" stays on Flaming Gorge where I chase monster Kokanee, Rainbow Trout, and Brown Trout on a weekly basis.
My two hottest rigs: 4.25″ Pink and Lime Green 50/50 Dodgerwith a Caribbean Sunset Spoon and the 5.5″Fusion Dodger with a Pink Cotton Candy Squid
Mark Ramsey
Hello! My name is Mark Ramsey and welcome to the world's finest Kokanee and trout tackle company. Rocky Mountain tackle. I have been fishing the lakes, rivers and streams of Utah, Wyoming, Idaho and Montana for the better part of 45 years. The tackle and gear that we have here at RMT has been tested for countless hours by our RMT team and if it doesn't produce fish, its out of here!
My home Waters are Flaming Gorge, Bear lake, East Canyon, Porcupine, and other local waters here along the Wasatch front. I live in West Haven Utah and like most folks, don't get to fish near as much as I would like. I am married, have two Fantastic beautiful daughters who also love the outdoors and what it has to offer.
I love to pursue the Silver bullets on Flaming Gorge. There is nothing like the sound of a Tica reel's drag screaming on a Lamiglas Rod and a four plus pound Kokanee on the other end! Feel free to contact myself or any other RMT team member to ask us a question or give you some tips to help make your next trip out on the lake the best ever.
My favorite Kokanee set up for Flaming gorge or just about any trout or Kokanee water is a RMT 5.5 Nickel Glow dodger with a double pink squid. This is my go to!!!
Tim Anson
Hello my name is Tim Anson. Growing up in the state of Wyoming, I have been privileged to experience some of the best fishing that Mother Nature has to offer. Having a world class kokanee fishery like Flaming Gorge so close, it was only natural that kokanee would be at the top of my list to pursue.
Rocky Mountain Tackle has helped me time after time to have great success when fishing for those silver bullets. Being on the pro staff for Rocky Mountain Tackle had allowed me to meet some truly great people. The experience, knowledge, and dedication that these individuals show, is what makes Rocky Mountain Tackle the leader it is today.
One of my favorite set-ups is a 5.5 Hyper Plaid dodger, with a double-glow pink squid behind it. It has been a proven set-up year after year.
Here's to tight lines and screaming drags see you on the water.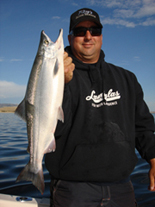 Troy Barr
Troy is the owner and operator of Troy T-Roy's Guide Service targeting kokanee, king salmon and rainbow trout. Having grown up in Dixon California, Troy has been fishing for over 30 years and specializes in Lake Berryessa. With the love of the water, catching fish and safety in mind, he strives to be the best on the water and provide that enjoyable charter experience and Rocky Mountain Tackle plays a key element in that.
Troy is also an active member of the California Inland Fisheries Foundation Incorporated, and fishes a lot of the family fun tournaments. He also volunteers his time as a cook for fundraiser barbeques for local charities. Troy enjoys his job guiding on Lake Berryessa and showing his clients the techniques of down rigger fishing for trout, kokanee, and land locked king salmon and catching fish with Rocky Mountain Tackle.
Weapons of choice would easily have to be Hyper plaid dodger in conjunction with a UV cotton candy signature squid.
Another great staple that's produced a lot of good numbers for me on Berryessa is the Bahama mama dodger with a pink/ purple assassin spinner.